A Colourful Journey with TENCEL™ Lyocell
The Ayo Aje collection is a new chapter for OliveAnkara and a form of vehicle in conveying a powerful story to its audience through the journey of its fabric. The TENCEL™ Lyocell Eco-fabrics chosen for the collection hopes to not only create new silhouettes for OliveAnkara but a canvas for new original prints that would spark meaningful conversations for both wearers and observers.
TENCEL™️ fibers

TENCEL™️ branded lyocell is produced by environmentally responsible processes. The botanical origins come from sustainably sourced natural raw wood of fast growing trees - mainly Eucalyptus and Birch. Clothes made of TENCEL™️ ensure that your purchases will not harm the environment while retaining style and comfort. On top of the low environmental impact of production, it is certified biodegradable and compostable on disposal, making it the best choice for sustainable fashion.
AJO AYE - 'COLOURFUL JOURNEY'
In continuation of presenting bold styles for the culturally curious, OliveAnkara transcends the boundaries of geographic separation, and embodies the beginning of a brighter dawn and new age with AJO AYE 21. Ideating fusion between vivid styles and colours of Ankara (African wax print fabrics) and elegant Japanese motifs. These prints were created in collaboration with textile designers, Hyun-Jin Yoo and Patrizia Bosisio.
EWA NAIBU
Translating to 'Beauty Inside', this original print is inspired by the peacock. Its name uses two languages – Yorùbá (Ewa) and Japanese (Naibu), further defining the beautiful combination of Ubby's cultures. The peacock exudes an aura of grace, freedom, love, dignity, and courage – just as this piece emanates. The peacock is sacred in some cultures, but in West Africa, it serves as a reminder that nothing should be taken too seriously, to be present and stay centred on what "is".
Underlining the print's concept of inner beauty, Ewa Naibu draws on seigaiha, a motif used to illustrate seas and oceans. Dating to sixth century Japan, the water motif signifies the incarnation of purity and the pliant simplicity of life.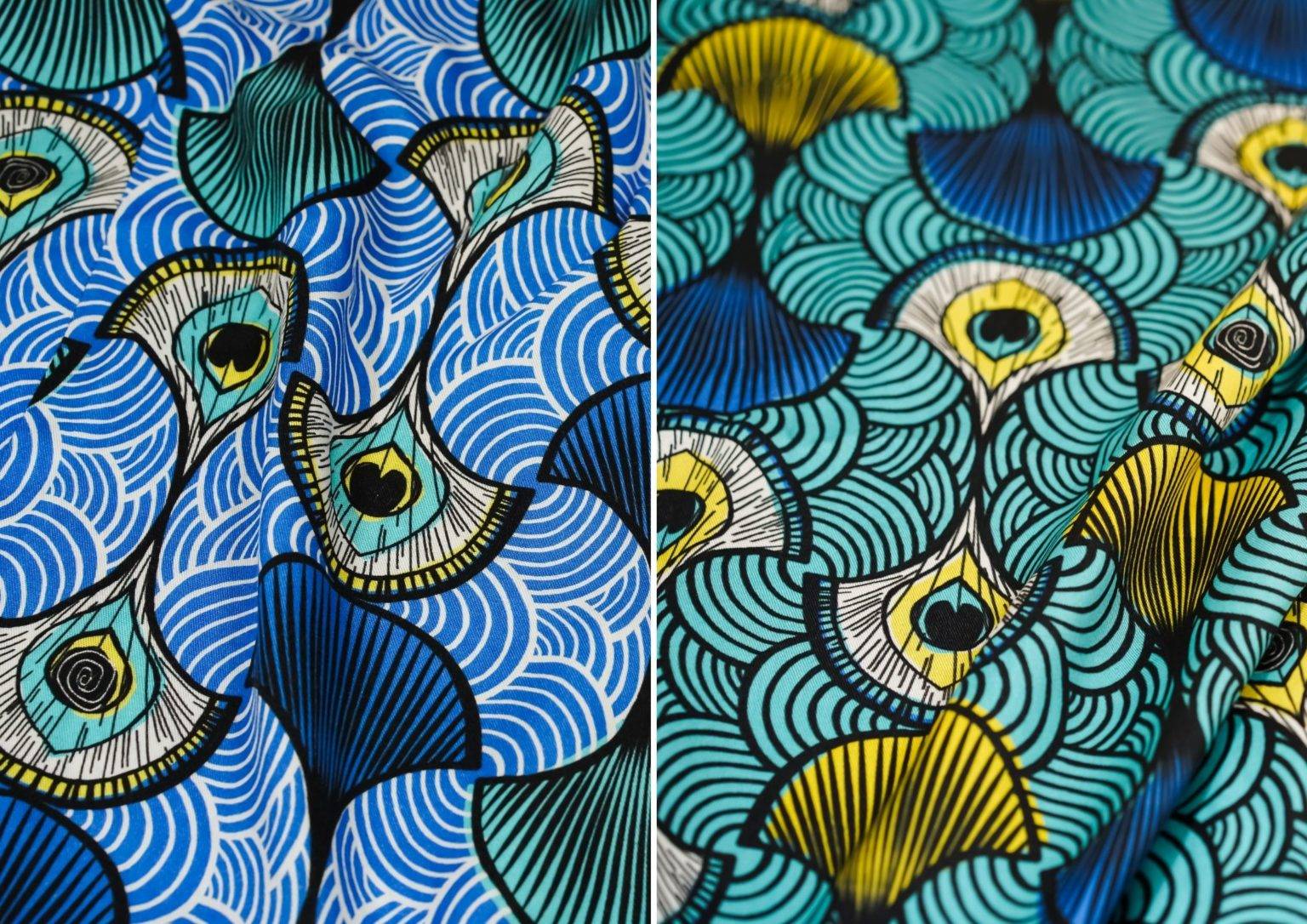 "We tend to emphasise or put more effort into our outer appearance more than taking care of our inner beauty. But once we are strong inside, these waves will spread outward and start to impact positivity on oneself and eventually influencing others in a meaningful way." - Hyun-Jin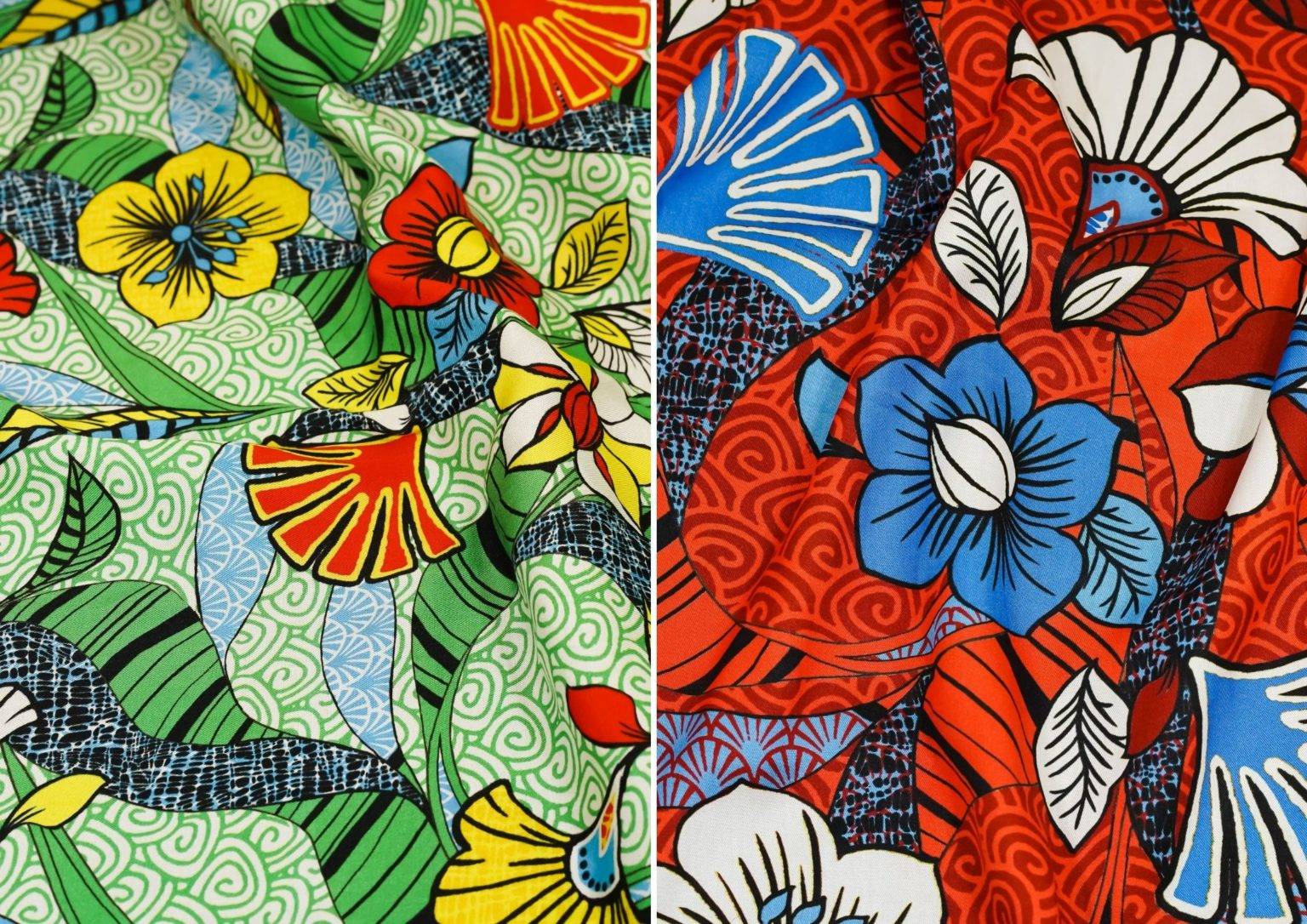 ASA HANA
The name of this print translates to 'Cultural Blossom'. The first word is in the Yorùbá language while the latter is in the Japanese language. This print tells the tale of two flowers – the hibiscus and the ginkgo. These two blooms symbolise the joy of happiness in a marriage. They also associate with fame, glory and wealth. The short-lived hibiscus flower is a metaphor for youth, fame, and beauty, and a nudge to enjoy life in all its aspects despite its ephemerality.
The different colours of this print also stand for various qualities. The yellow flowers represent happiness and good luck, while the blue stands for knowledge. The white blooms stand for purity and the female, while red symbolises love and passion.
"Fashion is so important. it has such a great role in people's lives. We express our own personality, our stories through what we choose to wear." - PATRIZIA