GOLDEN OASIS
PRINTS MEANINGS
Let the Golden Oasis collection become your go-to choice for those balmy summer evenings. Picture yourself in the exquisite Golden Mirage print, with its intricate patterns and golden hues that evoke the last rush of warmth before the sun bids adieu. Alternatively, indulge in the ethereal allure of Afterglow, a print that captures the essence of lingering light and the joy that remains after a pleasurable experience. The TENCEL™ & Linen blend Eco-fabrics chosen for the collection hopes to not only create new silhouettes for OliveAnkara but a canvas for new original prints that would spark meaningful conversations for both wearers and observers.
70% TENCEL™️ Lyocell, 30% Linen woven
TENCEL™ Lyocell is a lyocell rayon fiber, created by converting dissolved wood pulp into versatile fiber using a low-toxicity solvent. During this process, 99.5% of chemicals are reused in a closed-loop system. TENCEL™ Lyocell is durable without feeling heavy - it has a gentle feel that moves well with the body.
Now available in our Golden Oasis OAOG 2.0 collections, linen is a sustainable fiber made from the flax plant. A gentle crop that helps deter weeds from the plants around it, flax is typically grown without the use of herbicides or pesticides, and compared to cotton or polyester, requires less water and energy to produce. Linen transitions easily from season to season, keeps the body cool and gets softer with each wash and wear. This gorgeous blend of Tencel™ Lyocell and linen creates a fabric with amazing softness and drape. It is strong and durable, breathable and the softness will only increase with washing. This fabric is smooth and cool to the touch and has a slight slubby texture.
You can be assured of your choice for the environment and for you with this fabric. Not only is it produced with Lenzing's certified renewable wood mainly Eucalyptus and Birch- it is certified biodegradable, compostable on disposal and closed loop production, but also being Oeko-Tex 100 Standard certified you know that it is not made with any harmful chemicals or dyes.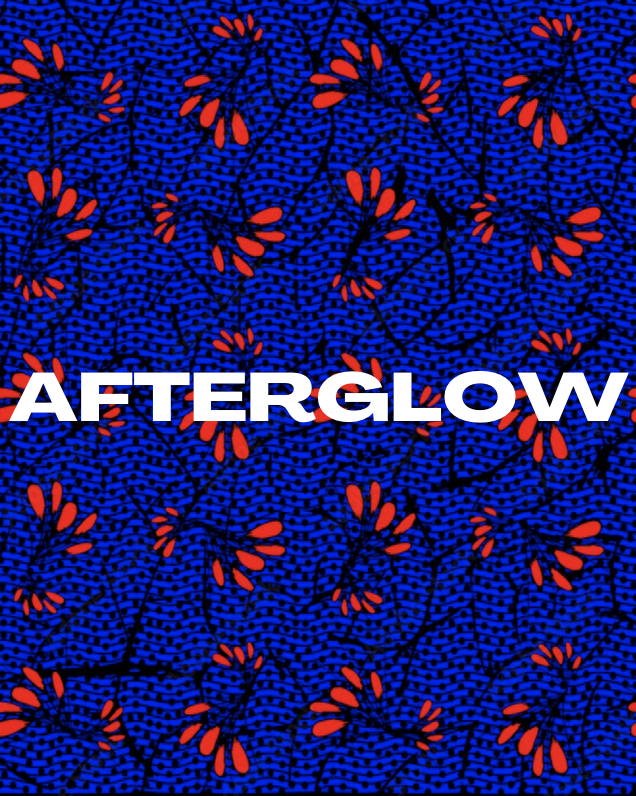 Enter the captivating world of OliveAnkara's fabric print, "Afterglow." This stunning creation combines the elegance of a peacock with delicate sunset orange flower petals. Against a rich Admiral Blue backdrop, black wavy lines adorned with black dots weave a tale of nature's majesty, where the jungle meets the ocean.

Immerse yourself in the beauty of this print as it represents the magical afterglow of nature. Picture the golden hour, when the sun has set but its radiance still lingers in the sky, casting a warm and tranquil light. Inspired by this phenomenon, "Afterglow" embodies the lingering good feelings that follow a pleasurable or successful experience.
Wrap yourself in the fabric adorned with "Afterglow" and embrace its beauty. Let it serve as a reminder of the harmonious union of nature's elements and the lasting joy found in life's most fulfilling moments. With its vibrant colours and intricate patterns, this print brings a sense of wonder and contentment to your day. Experience the magic of "Afterglow" and celebrate the eternal beauty and positive energy that nature and cherished experiences provide.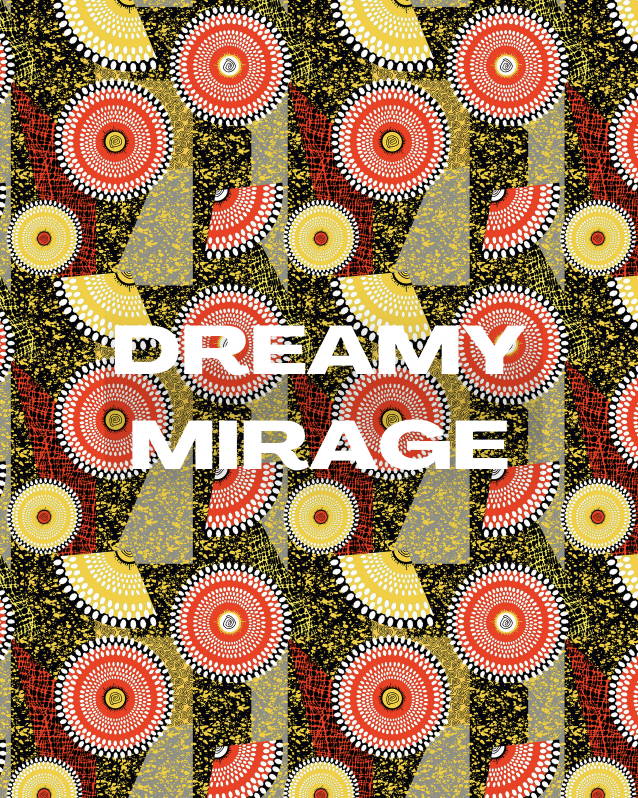 "Dreamy Mirage" is more than just a print; it's a visual narrative that invites you to embrace the harmonious blend of heritage and creativity. This print serves as a testament to the power of reinvention. It reminds us that even the most treasured aspects of our past can be reshaped into something new, breathing life into our present and inspiring us to dream bigger. Allow "Dreamy Mirage" to transport you to a realm where traditions evolve, where colours dance, and where imagination knows no bounds.

As your eyes wander over the print, prepare to be immersed in a symphony of colours that pay homage to the natural world. Earthy sand tones, both light and dark, form a grounding backdrop, while black, beige, red, and white mingle seamlessly, lending depth and contrast to the composition. But that's not all—gaze a little longer, and you'll discover a hidden representation of the sun within the intricate design.